The Cleantech Open, the world's largest clean-technology accelerator, has announced the winners of the Global Ideas Competition. Now in its fifth year, the Cleantech Open Global Ideas Competition brings early-stage startups with breakthrough cleantech ideas to Silicon Valley to compete for the Global Ideas Prize.
Orchestrated in conjunction with Global Entrepreneurship Week (gew.co), this annual competition sees startups from around the world competing in their respective countries for national awards, with the national winners then facing off at the Cleantech Open Global Forum.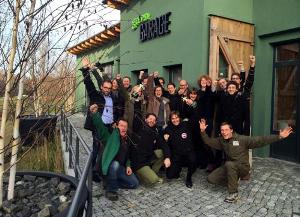 For the finals, twenty-eight teams from around the world convened in San Jose at the Cleantech Open Global Forum, the "Academy Awards of Cleantech," which marked the grand finale of this year's Cleantech Open Accelerator. Cleantech innovators from Cape Verde, Lebanon, Vietnam, and beyond were beamed in via videoconference. After two days of intensive judging, a group of five national winners were selected to present to a final jury of investors and technology experts:
Judges awarded first prize to: ECF Farmsystems (Germany), with GreenSpense (Israel) and Cibus 3.0 (Costa Rica) winning second and third places, respectively. In addition to winning the overall 2013 Cleantech Open Global Ideas Award, ECF harvested a number of other awards at the Global Forum: the People's Choice Award for their technology pitch, and the overall winner in the 'Agriculture, Water and Waste' category.
Nicolas Leschke, CEO of ECF Farmsystems, said: "It is a great recognition to be part of this fantastic event. All cleantech startups are winners because we dedicate our lives to leaving a mark for future generations."
Kevin Braithwaite, chair of the Cleantech Open Global Ideas Competition added: "This year, judging was particularly hard, with an even stronger group of teams from around the world competed, including many passionate entrepreneurs from countries that were participating for the first time. The winning team, ECF Farmsystems from Germany, was our first-ever Global Ideas Winner focused on agriculture. As 14 to 24 percent of global greenhouse gas emissions and 70 percent of humanity's fresh water usage are as a direct result of agricultural activity, ECF Farmsystems could have a major impact far outside Germany. This is yet another example of how we should be truly global in our search for the most innovative solutions to the most pressing environmental, economic and social challenges facing our planet."
ABOUT ECF FARMSYSTEMS
ECF Farmsystems develops innovative aquaponic farm systems for urban environments. Customers can produce fish and vegetables of the highest quality with a minimum of water usage, transportation miles and CO2 emissions. ECF plans to build a 2,000m2 farm system in Berlin that will produce 35 tonnes of vegetables, 24 tonnes of fish and a turnover of USD 715,000 annually. The ECF city farm Berlin is the flagship farm system for an international distribution of ECF partner farms. The ECF aquaponic system is patented worldwide, a prototype is up and running, and two ECF farms have already been sold. Aquaponics is the combination of aquaculture (raising aquatic animals in tanks) and hydroponics (cultivating plants in water). The metabolic products of the fish are the organic fertilizer for the plants. The same water from the fish is circulated and used again for the plants. A patented system regulates the water and nutrient level for the plants in the system with the plants also absorbing the CO2 derived from the aquaculture. ECF Farmsystems was also one of the two winners of the 2013 Climate-KIC Venture Competition in Germany. It is based in the Green Garage on the EUREF Campus in Berlin. For more information, visit ecf-farmsystems.com.
ABOUT THE CLEANTECH OPEN
The Cleantech Open runs the world's largest cleantech accelerator. Its mission is to find, fund and foster entrepreneurs with big ideas that address today's most urgent energy, environmental and economic challenges. A 501(c)(3) not-for-profit organization, the Cleantech Open provides the infrastructure, expertise and strategic relationships that turn clever ideas into successful global cleantech companies. Since 2006, through its one-of-a-kind annual business competition and mentorship program, the Cleantech Open has enabled 727 cleantech startups to bring their breakthrough ideas to fruition, helped its alumni companies raise more than $800M in external capital, and created thousands of green-collar jobs. Fueled by a global network of more than 1,500 volunteers and sponsors, the Cleantech Open unites the public and private sectors in a shared vision for making America's and the world's cleantech sectors a thriving economic engine. For more information, visitcleantechopen.org, or follow us on Twitter and Facebook.
THE SPONSORS WHO MAKE IT POSSIBLE
The Cleantech Open is made possible by the generous support of our sponsors and partners, including Global Partner, Chevron; National Education Partner, University of Phoenix; National Premier Sponsor, Wells Fargo; and National Sponsor, PARC. Regionally, the programs are additionally supported by the following corporate partners: Cleantech Innovations New England, Commercial Energy, Deloitte, Faegre Baker Daniels, Massachusetts Clean Energy Center, National Grid, NYSERDA, Pacific Gas & Electric, and many others.