Activity Description
What is Global Entrepreneurship Week?

During one week each November, thousands of events and competitions in 170 countries inspire millions to engage in entrepreneurial activity while connecting them to potential collaborators, mentors and even investors. GEW is always held in November and for 2018 it will be from the 12th to 18th.
Any Entrepreneur or Innovator that resides or operates there business in Australia is encouraged to participate in GEW 2018 - AUS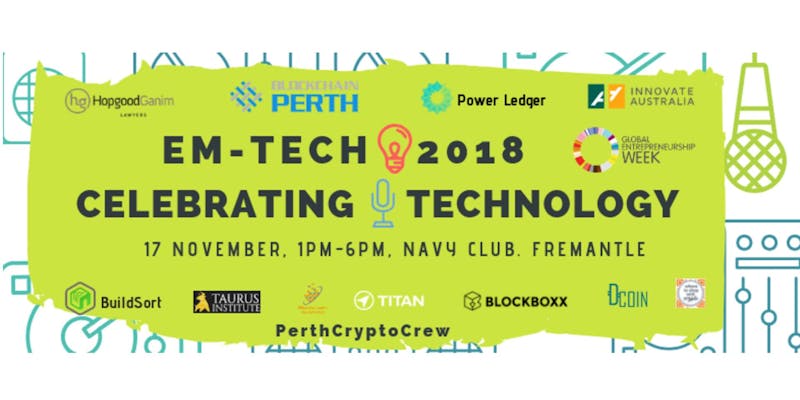 Em-Tech 2018 Celebrating Technology
Hosted by Blockchain Perth/Fremantle 
Celebrating Technology in Global Entrepreneurship Week 2018
In the spirit of supporting Inventors, Innovators and Investors and during Global Entrepreneurship Week 2018 we are having a celebration in Fremantle at the Navy Club.
Hosted jointly by Johnny Swaneopol on behalf of Blockchain Freo/Perth and Big Al Connolly on behalf of EntrepreneursVille and GEN Australia. genaustralia.com
The event with a capacity of 250 guests, plus sponsors and VIP's. Talks Panels, Exhibitors, Display Stands and Demonstrations.
Speakers: Global Entrepreneurship Network, Innovate Australia, Power Ledger, DCoin, Picosat Systems, Hopgood Ganim Lawyers, Titan Digital Adverting, BlockBoxx, Enkel Network, Taurus Institute, Blockchain Perth, Blockboxx, Elk Robotics (Drones), Plaak Blockchain, Nano Solutions, APPollo, OTOTGo Group, Circle Leadership Global, Crypto Clothesline, Where to Shop with Crypto.
Speakers and panellists
Innovation
Entrepreneurship
Leadership
Marketing 
Tech and the law
Smart Cities 
Sustainable Communities
Venture Capital
Drones
Blockchain
Not for Profits….. Free to display a banner
REGISTER HERE:  bit.ly/EventbriteEmTech2018 
Global Entrepreneurship Week 2018 - AUS Regions